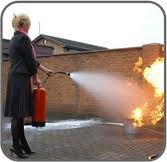 UK Fire Legislation requires all employers to ensure that all employees are provided with adequate fire safety training on Induction and at least annually.
Fire safety training should include: Action on hearing the fire alarm, Action on discovering a fire, Safety features within premises, Calling the fire service, safe evacuation & types and use of fire fighting equipment.
Onguard Fire Protection provide Fire Safety Training courses to suit your Businesses needs including Fire Safety Awareness Training and Fire Warden / Marshal Training. We provide the courses at your premises from 6 persons upwards.
Basic Fire Awareness Course (Approx. 2.5 hours)
•
Legislation
• Causes of Fire, Fire Spread and Growth
• Action of discovering a fire – All Persons
• Emergency signage
General Evacuation Procedures – All Persons
• General Fire Prevention and Hazard Spotting
• Know your extinguishers
• Other extinguishing methods
• Questions
• Practical use of fire extinguishers
(Certificate of attendance to be provided for each person attending
Fire Marshal / Warden Course (Approx. 3.5 hours)
In Addition to the Basic Fire Awareness course topics our Fire Marshal / Warden Course offers the additional topics:
• Fire Wardens and Marshals Roles & Responsibilities – Daily duties
• Designated persons Duties in an emergency
• Calling the emergency services and liaising with Fire Officers

In depth Fire prevention and Hazard Spotting
• Short examination / test.